Coin types included in this section are usually assigned to Kelenderis or are described as imitations of the Kelenderis mint. Despite the similar composition both on the obverse and the reverse, these coins are in many ways significantly different from the production of Kelenderis. It appears to be a short-lived production by an as yet unidentified two separate mints, which used the Kelenderis coins only as a loose model. These Pseudo-Kelenderis mints were probably also located in Cilicia Trachea or possibly in some nearby area of the eastern Mediterranean. An iconographic analysis of these coins is part of an article to be published later this year.
1a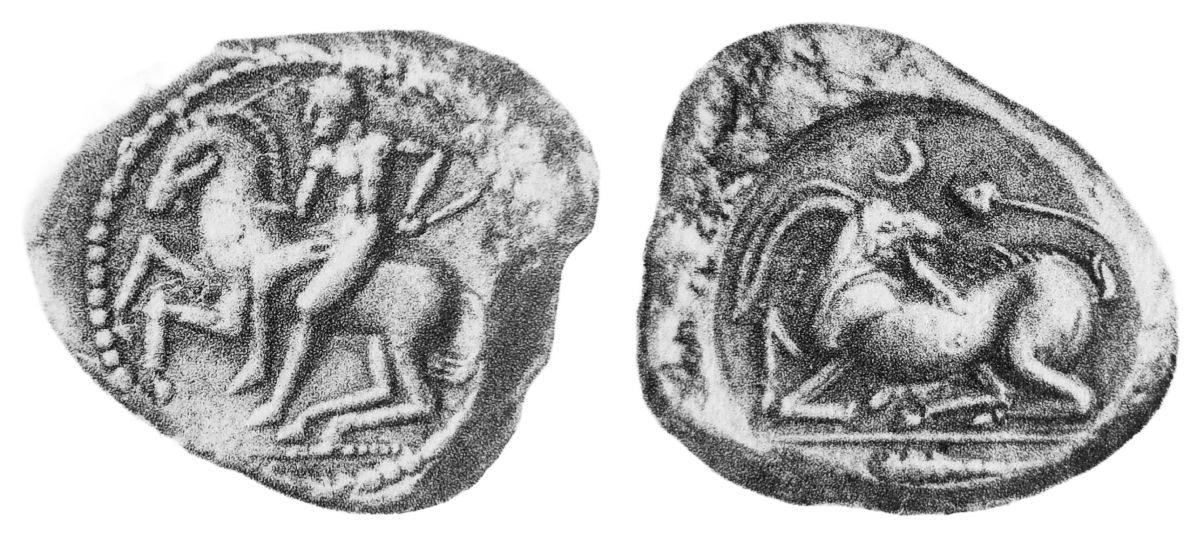 1b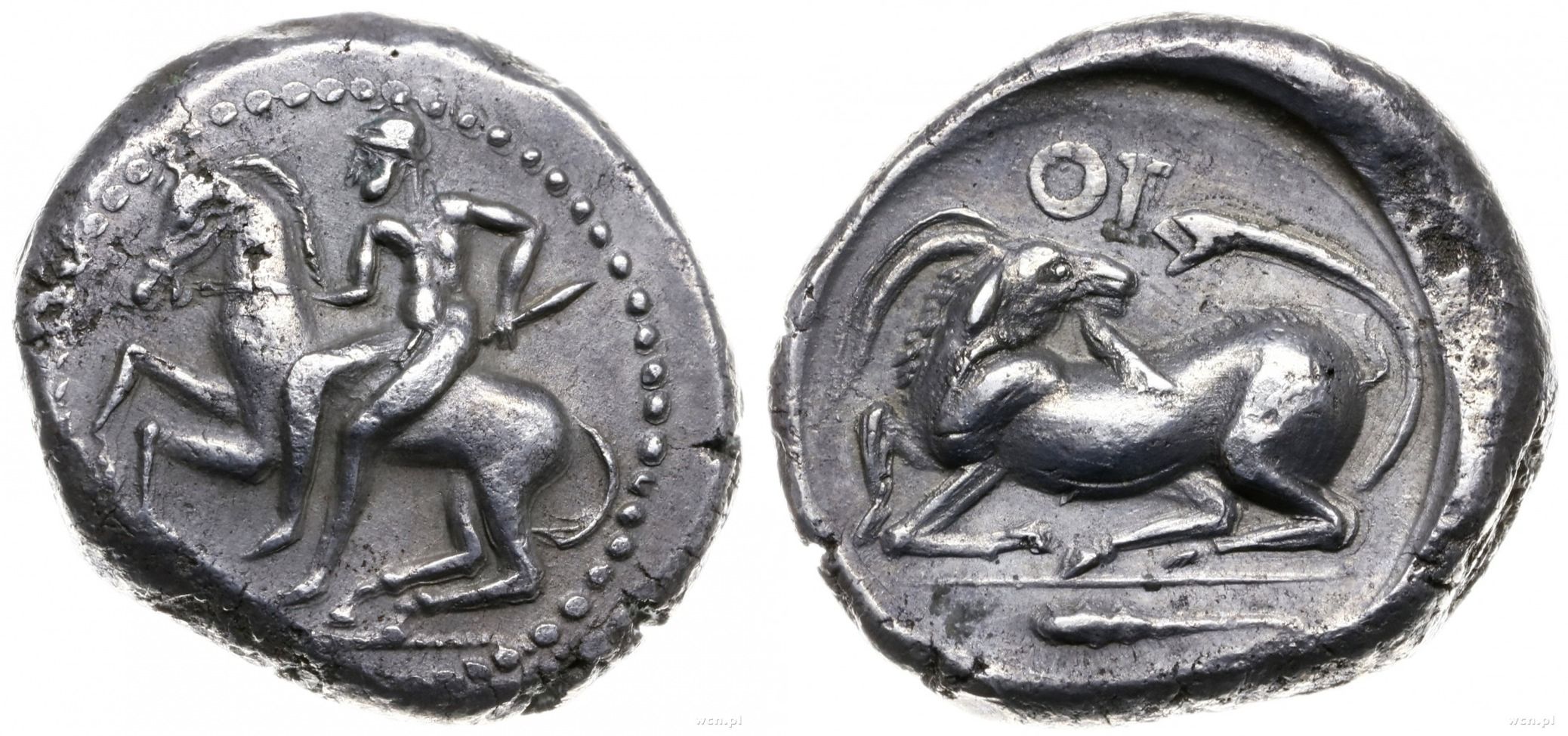 Type 1
Denomination:
AR Stater
Detail
Obverse:
Helmeted (?), nude rider, holding reins in right hand and cutlass (makhaira) in left, dismounting from horse rearing to left on dotted exergual line; dotted border.
Reverse:
Goat kneeling to left on solid exergual line, head turned back to right; in exergue, club.
Variants:
a.
rev.: above goat, crescent and ivy leaf on a long stalk
b.
rev.: serpent attacking the goat from the right; above goat, OT (?)
References:
a.
SNG Berry 2, 1258
b.
Vismara 1999, p. 162, Fr 39; several specimens on the market, e.g. Warszawskie Centrum Numizmatyczne, Auction 66 (10 September 2016), Lot 1 (acsearch.info URL); Coll. P. Veselý, UNC-AR-01
Credit (see the references above):
a.
SNG Berry 2
b.
Warszawskie Centrum Numizmatyczne
Remarks:
(1)
All known specimens of variant 1b are struck from the same obverse and reverse dies, which are a reworking of the dies used for the variant 1a.
(2)
The object in the rider's left hand is not a whip, as is usually stated in auction catalogues, but a single-edged sword.
2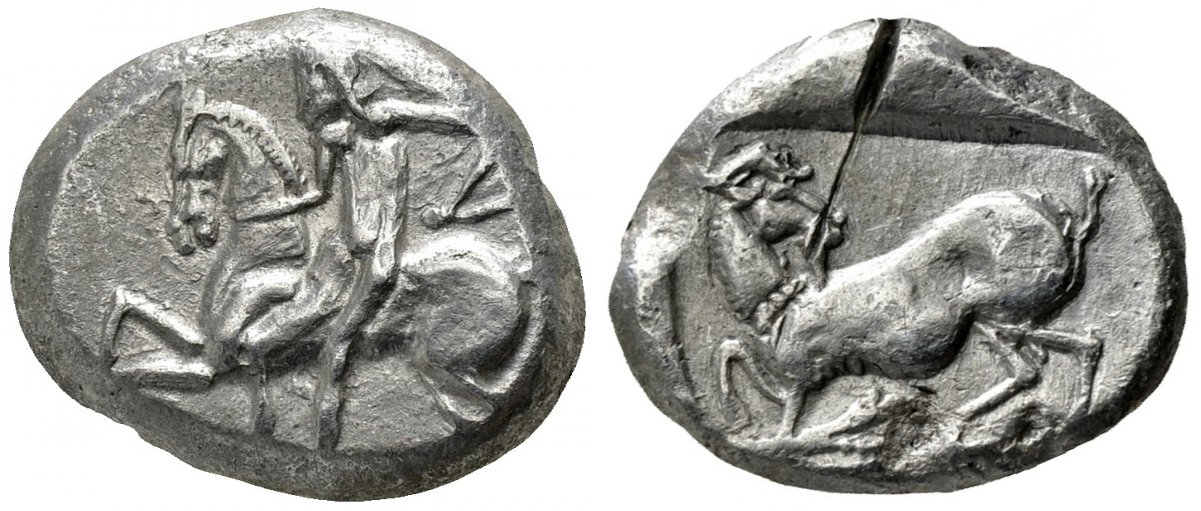 Type 2
Denomination:
AR Stater
Detail
| | |
| --- | --- |
| Obverse: | Nude rider, holding reins in right hand and whip in left, dismounting from horse rearing to left;. |
| Reverse: | Goat kneeling left on dotted exergual line, head turned back to right; all within deep incuse. |
| References: | Savoca Coins, Live Online Auction 4 (30 August 2015), Lot 322 (acsearch.info URL) |
| Credit: | Savoca Coins (see the reference above) |
| Remark: | The depiction of the rider on the obverse and the deep incuse on the reverse are strongly reminiscent of the style of early Holmoi staters, see the catalogue of Holmoi, Group 2, Type 1.1 (moreover, the variant 1.1a is also unepigraphic). The obverse scene is oriented to the right on these staters, but to the left on the third staters (ibid, Type 1.2). The kneeling goat on the reverse, however, refers to Kelenderis. The minting location of this coin is unclear, but most likely it is neither Holmoi nor Kelenderis. |
29 August 2021 – 8 November 2023