Staters
1.1a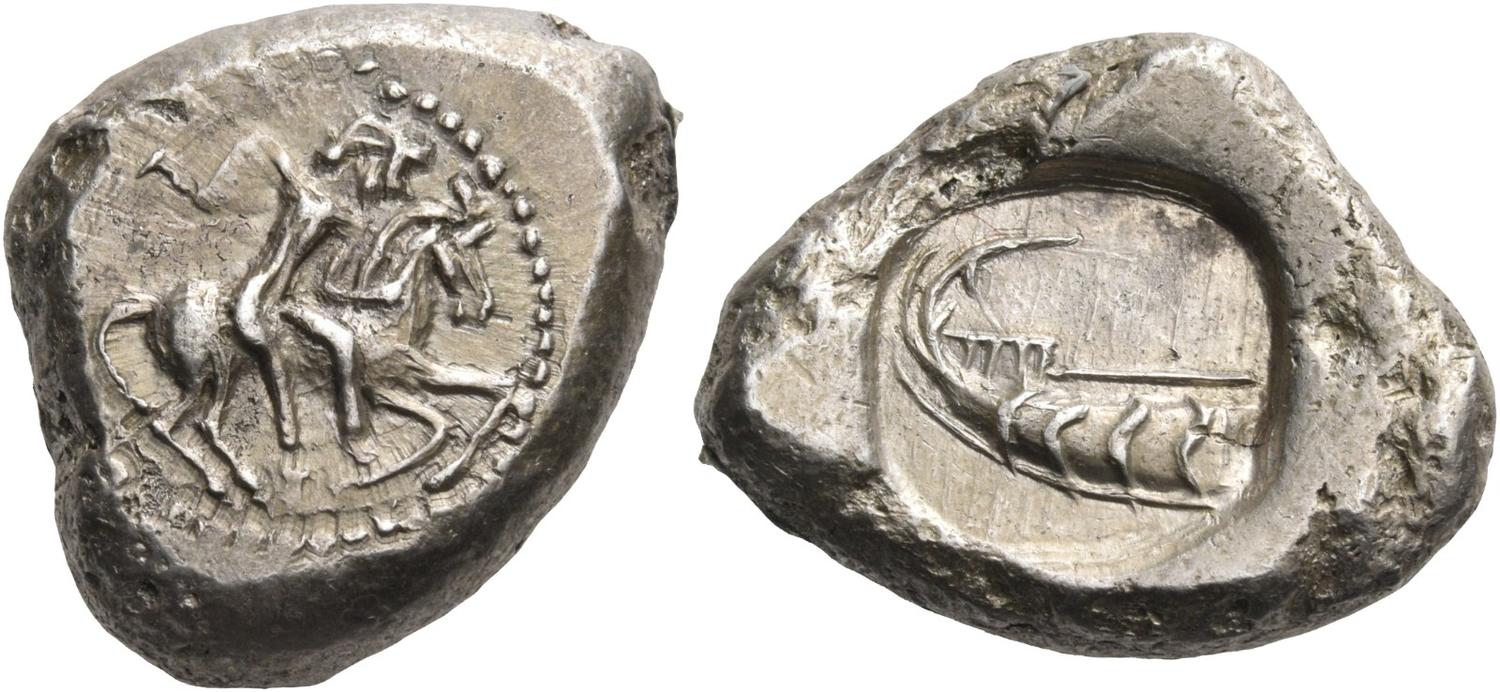 1.1b
Type 1.1
Denomination:
AR Stater
Detail
Obverse:
Nude rider, holding reins in left hand and whip in right, dismounting from horse rearing to right; dotted border.
Reverse:
Stern of a galley to left; all within deep incuse.
Variants:
a.
rev.: anepigraphic
b.
rev.: above stern, ΟΛΜΙ
References:
a.
Nomos AG, Auction 19 (17 November 2019), Lot 175 (acsearch.info URL)
b.
Several specimens on the market, e.g. Roma Numismatics Limited, Auction 19 (26 March 2020), Lot 563 (acsearch.info URL)
Die links:
All known specimens are struck from the same obverse and reverse dies. The only difference is that the variant 1.1a does not yet have the ethnic on the reverse. Therefore, the variant 1.1a must have preceded the variant 1.1b in time and represents the early state of the dies.
Credit (see the references above):
a.
Nomos AG
b.
Roma Numismatics Limited
Third staters
1.2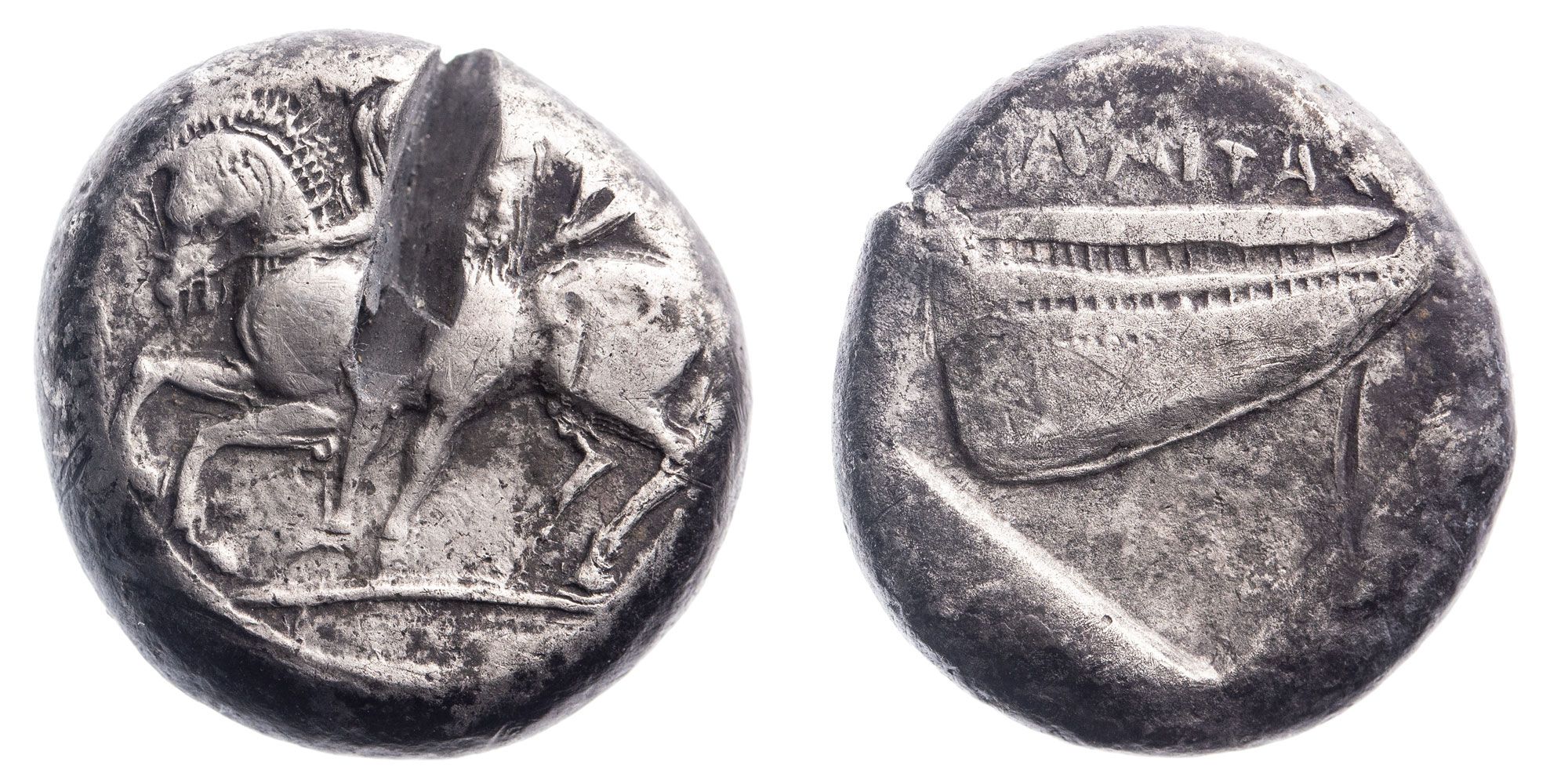 Type 1.2
Denomination:
AR Third Stater
Detail
Obverse:
Nude rider, holding reins in right hand and whip in left, dismounting from horse rearing to left; dotted border.
Reverse:
Stern of a galley to left; vertically above stern, ΟΛΜΙ; below stern, dolphin to left; all within deep diamond-shaped incuse.
References:
Numismatik Naumann, Auction 39 (3 January 2016), Lot 415 (acsearch.info URL)
Credit:
Numismatik Naumann (see the reference above)
Remarks:
(1)
The design of the obverse is much more elaborate than that of Type 1.1. It can therefore be assumed that the minting of third staters began later than the minting of staters.
(2)
The dolphin is also found on Holmoi staters from the 4th century BC, see Group 2, Type 2.1. This symbol was also used on the reverse of some Kelenderis coins from the 4th century BC, see the catalogue of Kelenderis coins, Types 2B.1 (stater), 2B.2 (third stater) and 3G.1 (stater).
Obols
1.3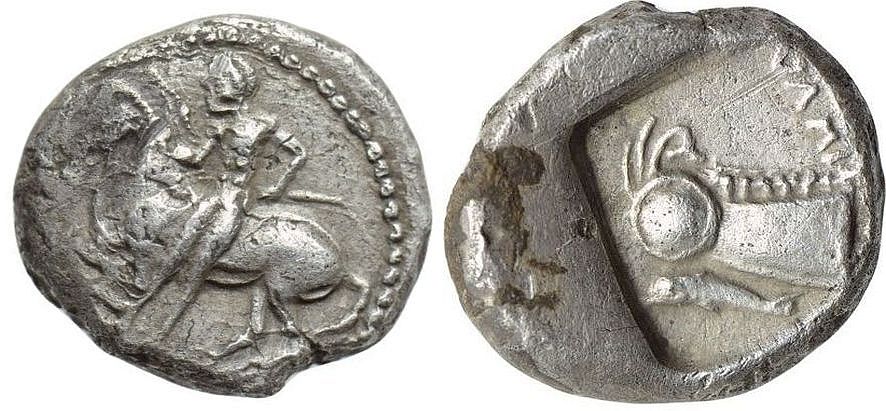 Type 1.3
Denomination:
AR Obol
Detail
| | |
| --- | --- |
| Obverse: | Forepart of Pegasus left; dotted border. |
| Reverse: | Stern of galley right; above stern, ΟΛΜ; all within diamond-shaped incuse. |
| References: | Coll. P. Veselý, HOL-AR-02. |
| Credit: | P. Veselý |
| Remark: | Kelenderis also chose the forepart of Pegasus for early obol issues, see Kelenderis, Group 1, Type 1B.2. |
12 July 2021 – 30 April 2023